FURTHER INFORMATION
All prices are inclusive of VAT
Our fabrics are hand screen printed in Southall, London.
They are enhanced by slight colour variations – inks are mixed from scratch for each print run. The base cloths are natural cotton and linen fibres and will vary slightly from batch to batch. Small imperfections in the weave are normal. The fabrics are sanforized after printing to give a softer handle.
Please order a sample of your chosen colourway as lengths of fabric cannot be returned. We cannot guarantee against colour fading, and we recommend dry cleaning.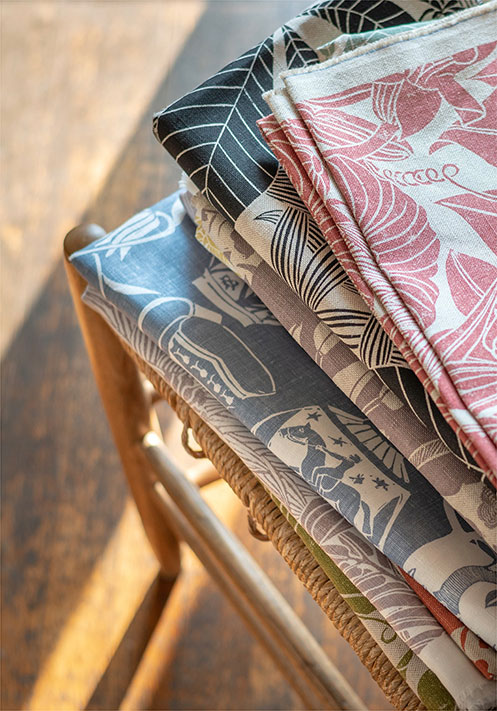 BASE CLOTHS
WHITE
100% linen
145cm wide (before printing)
Rub test 20,000 martindale cycles
Suitable for soft furnishing
Dry clean only
NATURAL
49% linen, 51% cotton
(Slightly heavier than the white base cloth)
142cm wide (before printing)
Rub test 20,000 martindale cycles
Suitable for soft furnishing and light upholstery.
Dry clean only
DESIGN DIMENSIONS
CHESTNUT
Printed width: 132cm
(with 2cm over engraving)
Vertical repeat: 91.6cm
Horizontal repeat: half drop
MARROW
Printed width: 138cm (with 2cm over engraving)
Vertical repeat: 87.6cm
Horizontal repeat: straight
JUGS
Printed width: 132 cm (with 2cm over engraving)
Vertical repeat: 49cm
Horizontal repeat: straight